Queen Mary in April, 1978
My parents took myself and my older sister to the Queen Mary in April, 1978, my very first visit to the ship!. The guided tour led from stem to stern, from the signal deck to the very bottom of the ship by a tour guide and the whole tour lasted two hours!.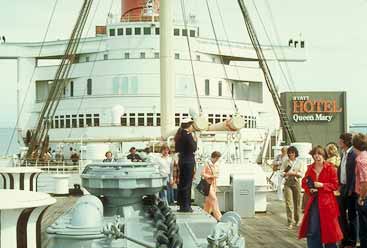 The Bow during a Two-Hour tour in 1978
Here we can see a tour guide speaking to the group through a hidden PA system on the bow of the ship.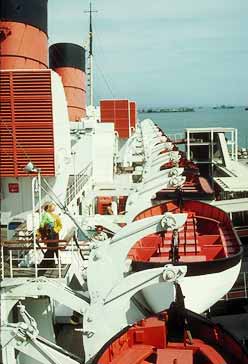 Port Lifeboats, 1978
The 24 lifeboats aboard the Queen Mary could each seat up to 145 passengers and were powered by diesel engines. As seen in this picture the boats had no covers on them in 1978 allowing the visitor a glimpse inside. Now they are covered in blue tarpaulins courtesy of the Disney Corporation, who ran the ship after buying the original operator, The Wrather Corporation. Disney operated the ship and hotel until 1992 when after losing money it closed the hotel and ship from the public and it looked like the Queen Mary was going to the breakers. Thankfully, she was rescued by the current operator, Joe Prevratil, and today he and his organization, RMS Foundation, run the ship and hotel better than ever before.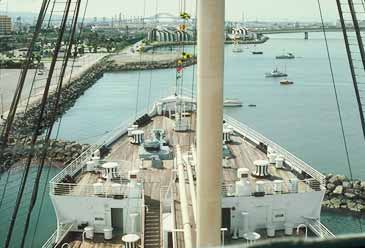 View From Bridge Wing, 1978
The view from the port bridge wing in 1978. Note the absence of the Catalina Island Ferry Service dock.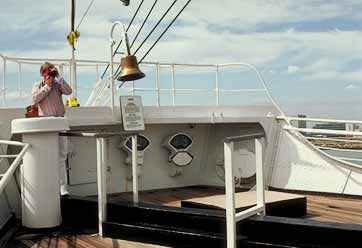 The Tip of the Bow, 1978
Here is a view of the very end of the bow, or the beginning of the ship. The telegraphs are part of the elaborate docking machinery on the foc'sle and aided in communication with the bridge. The captain would issue orders from the bridge, and they would be communicated to this area from identical telegraphs located on the docking bridges on either side of the main wheelhouse.. Thus directed, the men on the foc'sle would carry out the orders and via these telegraphs could relay back to the bridge an 'all clear' signal when the anchor chains were up or ropes were free of the dock.