How do I get to the Queen Mary?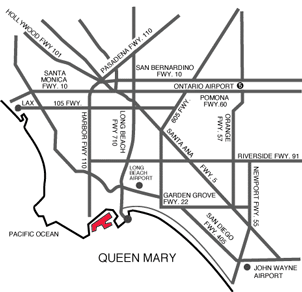 I will assume you are coming from out of town. Anyone in Southern California knows how to get to Long Beach (I would hope so). If not, please read below.
For those of us who are not citizens of LA or the surrounding areas, I propose to make life as simple as possible as for getting to the Queen Mary. I will assume most will be arriving by plane. LAX (Los Angeles International Airport) is situated on the West side of the city, by the beach. When arriving at the airport, you may notice that there are hundreds of busses and vans going in every direction. The Hotel Queen Mary offers a van service, though I have never taken it, it is by far the best way to get there from LAX. For those with an adventurous spirit (meaning you want to risk actually driving in LA), it is a very easy drive to the ship from LAX. Just head to the I-405 freeway and get on going South. The signs may point to San Diego. Don't worry! We aren't going that far. Once you're on the I-405, don't worry, it will eventually lead you there. It may look like a giant parking lot now, especially if you arrive on a weekend, but eventually things will get moving again! Once you see the exit to the 710 Freeway to Long Beach, get in the very right-hand lane. The exit comes up fast, and only the far-right lane can exit to 710 South. Once you get on the 710 heading south, just follow the signs to the Queen Mary. It's that easy!