Queen Mary Machinery Spaces and Engines
The Queen Mary as built in 1934 was designed from the very outset to be a fast ship. Despite her enormous size and displacement, her designers knew that a fast ship would be a successful ship. This was already being proven by the German express liners Bremen and Europa, which had quickly proven themselves in the sea lanes as the choice for business travelers who needed to cross in the least amount of time possible. Thus the Queen Mary was to have the latest in marine propulsion technology. Steam Turbine Engines, 4 in all each turning its own propellor, powered by a total of 24 water-tube boilers each heating steam at 700 degrees fahrenheit and at a pressure of 400 pounds per square inch. .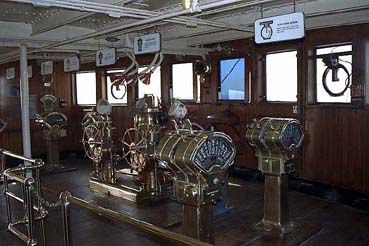 Queen Mary Bridge
This is the bridge of the Queen Mary. The telegraphs seen here are shiny brass, while when the ship was in service for Cunard from 1936 to 1968 they were light green. While at the Queen Mary in June, 1996 I was unable to photograph the bridge as they were filming some sort of video and the bridge was closed from the public. This was a major disappointment as one would like to stand in the bridge and imagine what it must have been like to pilot such a massive ship across the Atlantic. As it is, I was able to find this photograph of acceptable quality on a web page image server in Sweden.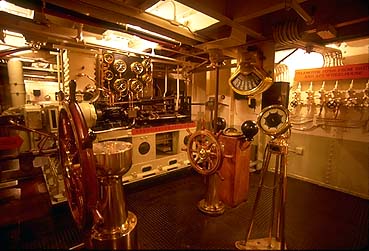 Aft Engine Room Emergency Steering Station
This area is on what used to be G Deck, the After Engine Room. This is one of the few remaining engine ares of the ship. After the ship arrived at Long Beach in 1967, most of the engines were ripped out to convert those areas of the ship in to a Museum of the Sea which never fully came to pass. Now those areas once full of "State of the Art" 1930s marine propulsion equipment, remain empty and dark like a closed up tomb waiting for a ray of sunlight to enter after a thousand years of abandonment. It is many peoples hope that someday these areas will house a life-size mockup of a boiler with sound effects and actual steam to educate visitors on how such a massive ship moved at 32 knots across a vast ocean carrying 3,200 people. (2002 Update: The Boiler Room Project is currently being planned with hopes for it to be up and open to the public in early 2004!) .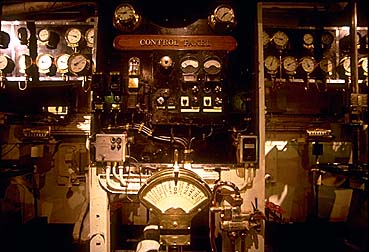 Queen Mary Engine Starting Platform
Here is one of two identical engine starting platforms. It is here where the Queen Mary's massive engines were started before a voyage. Amazingly enough, it looks almost exactly as it did in 1936. Just pause and imagine to yourself what it must have been like for the engineers to work in such a place. To start the engines in the Queen Mary from silence... What sounds did they hear? It would have been as if one were inside some savage beast coming to life after a long sleep. The telegraph in the center controlled one out of the four engines on the Queen Mary. There were four propellors, each driven by its own engine.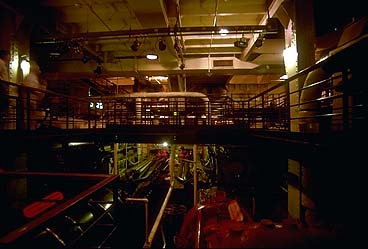 Queen Mary After Engine Room
Here we can get an idea of just a small fraction of what the engines of the Queen Mary looked like. We are standing in the After Engine Room, which housed two of the four Steam Turbine Engines. The other two engines were housed in the Forward Engine Room, located immediately forward from this room, now empty of course. These happen to be the inner two, that were run during the final voyage from Southampton to Long Beach. I wonder how noisy it was on the high seas at full speed.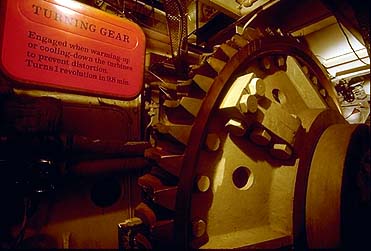 Turbine Turning Gear
As it says in the picture, this massive gear took 9.8 minutes to make one full revolution. It was used to turn the turbines while the engines were warming up and cooling down to prevent distortion. The size of this gear is very telling of the scale of technology present in the 1930s. "We are building a big ship so we need big parts!" must have been the axiom. It is very interesting to think that at the time the engines of the Queen Mary were removed, they were still in perfect operation condition. When the Queen Elizabeth was sent on her final voyage to Hong Kong to become a floating university, she steamed out from Fort Lauderdale, Florida and by the time she was off Cuba she had lost half of her boilers and had to stop for repairs before being able to conplete the voyage round the horn to Hong Kong. There she was converted to a floating university that was to sail all over the world with students aboard stopping at many ports for field trips. The Queen Elizabeth burned in Hong Kong harbor and arson was never ruled out. What was to become "Semester at Sea" was eventually carried out on a much smaller vessel.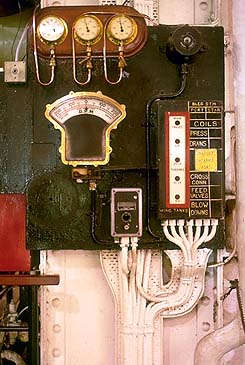 Detail of Controls
Here is a detail of some of the controls immediately adjacent to the last photograph. It is clear when viewing these areas of the ship how well they were taken care of during the Queen Mary's days in service for the Cunard Line. It must have been very difficult to rip out and destroy such a thing for the salvage workers. Many ask whether the Queen Mary could ever sail again with all her engines being removed. I think the main problem would be the hull. The hull of all ships has leaks. That is why there are bilge pumps. I have heard that the Queen Mary is no exception, and that there are areas where the hull plating is rusting badly. But retrofitting modern diesel engines in the Queen Mary would be next to impossible because of her size. The QE2, originally built with Steam Turbine Engines in 1968 was retrofitted with diesel engines in 1986 and many said that if she were any bigger it would have been impossible. There is only one liner left of the 1000+ foot class, and that is the Norway, originally the France. I do not know how much longer she will be at sea, nor if she is still able to make a profit. But there is talk of new ships being built to rival even the Norway's size. Only time will tell.