Queen Mary's Hull Areas
Here are some photographs taken in the Queen Mary's boiler rooms and cargo holds. Since the original intent was to develop these spaces for a museum, all the boilers and two of the four engines were completely removed and sold for scrap. The museum project was never fully realized and the areas which once held the boilers and the two outer engines now lay in ruin and neglect. It would cost countless thousands of dollars to clean up these areas in to something useful. The massive damage done to these areas is a tragedy. I did not take the pictures nor do I accept any responsibility for their existence. They simply tell a sad story that is a significant part of the history of the Queen Mary.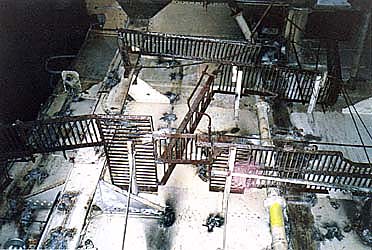 A Boiler Room
Here we can see some of the walkways that were over the boilers. You can see the burn marks where the workers used acetelyn torches to remove engine and boiler fittings.
Another View of a Boiler Room
This is looking to the left of the first photograph.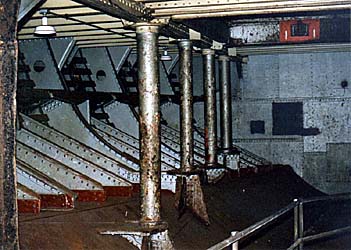 A View of a Cargo Room
Here we see part of a cargo room on the Queen Mary. This area was once part of the original guided tour, which lasted 2 hours and took visitors all over the ship. Much more interesting than what is offered now.
The Fan Room
Here is a view of the fan room. Again the area was left in an utter shambles by the demolition.
In the Bow
Here we are in the very front tip of the ship at the bow, and can see the stem here.
Under the First Class Pool
Here is a view under the first class pool.