Some External Views of the Queen Mary, 1996
---
When I arrived at the Queen Mary at about 8:30a.m., it was still foggy out and the grey sky didn't do much for a photograph. I later learned that it is like that every morning in Los Angeles. They call it the "marine air." Fortunately, at about noon it looked like it does in these pictures.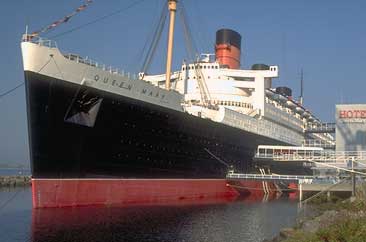 The Queen Mary from the Dockside
The ship rides quite a bit higher in the water now than she did in her days of service, as seen in the photograph above taken in June, 1996. Even after removing the over 100 layers of paint that had been applied to herhull and superstructure the Queen Mary rode an inch higher in the water. After the removal of all her boilers and her two outer 62,500hp steam turbine engines, she weighed 20,000 tons less and became extremely top heavy. They poured oxygen-free drilling mud in to her double bottom to stabilize her, and to maintain an even keel as she is docked here they have to keep the correct amount of water in her oil tanks. I heard recently she maintains a permanent 3 degree list to starboard that most visitors do not notice. The vertical line you see coming down through the 3rd funnel is the bungee cord coming from the bungee tower next to the bowon the dock.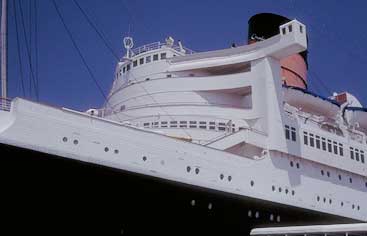 The Sweep of the Bridge
Naval architecture advanced and progressed through the nineteenth in to the twentieth century from wooden-hulled clipper ships to behemoth steel-hulled liners like the Queen Mary. As the ships became bigger, attempts were made to preserve some of the grace from their predecessors,the clipper ships. The Cunard liner Mauretania is often said to the Mary's direct predecessor in inspiration and style. When she and the Lusitainia were sailing the Atlantic as a pair, they were known as the Lucy and the Mary. Though the Queen Mary is of such immense proportions compared to her older and smaller sisters, she actually exceeds them ingrace and beauty as seen here in the beautiful lines of her bridge and forward super structure.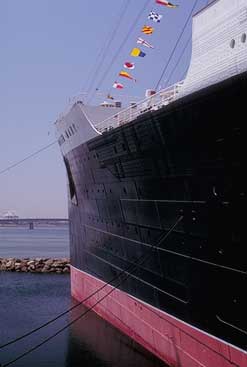 The Curve of the Bow
Here is a view of the Queen Mary's huge and powerful bow. This is the same bow that cut completely in half the British Cruiser Curacoa' in WWII, killing over 300 men. We can also see here the well deck, that part of the ship that many thought was a mistake by the designers and gave her adated look even the day she first sailed. The Queen Elizabeth designers omitted this feature giving her a more modern longer looking bow. But the well deck on the Mary is part of her unique style and is a facet of her elegant, traditional appearance while in her day possessing the most modern and powerful engines ever put into a ship. So powerful that it took 16 years for a faster liner, the SS United States, to beat her.